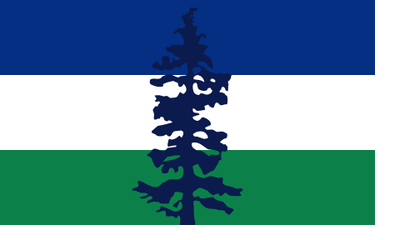 The
Flag of Cascadia
, known colloquially as the
Doug Flag
, is one of the primary symbols of the
Cascadia independence movement
.
The flag was designed in 1995 by Portland native and professor Alexander Baretich. The blue of the flag represents the sky, Pacific Ocean, Salish Sea and inland waters, the white represents snow and clouds and the green to represent the evergreen forests and fields. The tree is a Douglas-fir, which symbolizes endurance, defiance and resilience. Collectively the symbols of colors are meant to represent the bioregion of Cascadia.
Statement of use:
The flag was designed by Alexander Baretich during the academic year of 1994-1995 and represents the bioregion of Cascadia.
The design is not to be used for hate (1) or exploitation (2).
1.) Hate speech being defined as words, depictions and actions generated against an individual or group based on ethnicity, religious affiliation (or non-religious association or identity), race, gender identity, sexuality (from orientation to mutually consenting adult activities), familial structure, mobility, educational background (or "lack" of institutional education), caste or economic situation (class) and so forth. Hate speech also maybe disguised as "White Pride" or nationalism. The Cascadian flag by Alexander Baretich does not represent any of these forms of hate and should not be used to represent such hate.
2.) Exploitation being defined by the actions of treating someone unfairly in order to benefit from their work or the violating of Nature for profit at the expense of causing ecological harm. The use of the flag should not be contrary to the ideas of bioregionalism.
When in publication it should be cited that the designer is Alexander Baretich and that it's the flag of the bioregion of Cascadia or simply as the Cascadian flag. Alexander Baretich can be contacted at Alexander.Baretich@gmail.com
Community content is available under
CC-BY-SA
unless otherwise noted.